Tree Health: 5 Tree Diseases to Watch for in the Pacific Northwest
We can certainly help if you have questions about the health of your trees. Here are some of the more common tree diseases we deal with. In the Pacific Northwest, insect and disease troubles most commonly affect cherry, plum, birch and sycamore trees.
Root Rot and Armillaria are two common root diseases in the Gresham & Portland, Oregon as well as Vancouver, Washington. Fungi can lead to decay in the roots and butts of trees, and Root Rot is most common when trees have root damage or damage from pests. If infected, a tree will likely have discolored leaves, a loss of foliage, and crown dieback.
Meanwhile, Armillaria, also known as Honey Fungus, is a parasitic fungus that will often display honey yellow mushrooms. If you have Oregon White Oak trees, you'll notice these fungi at the base. A tree may seem healthy but still be severely infected. If leafy branches start dying back, or leaves don't appear in spring, and you detect the scent of mushrooms at the base of the trunk, Armillaria is the likely cause of your problems.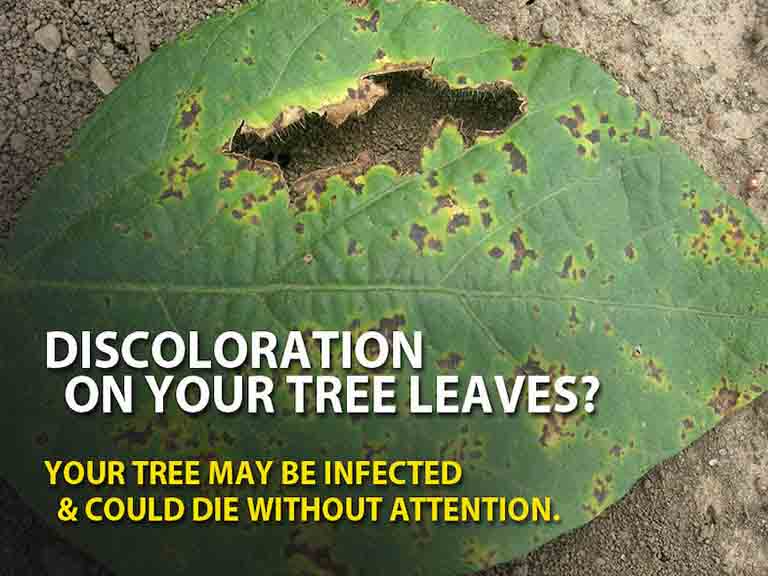 Blight, Anthracnose, and Verticillium Wilt all harm your foliage. Blight causes browning and then death of your leaves, twigs, branches, and floral organs. Blight occurs when pathogenic organisms infect your trees.
Anthracnose is one such organism that causes blight on many trees, with Dogwood Anthracnose being particularly common in the Northwest. Dogwood Anthracnose will display large blotches and little, purple-rimmed spots on your leaves.
Verticillium Wilt is a fungus that lives in soil. It will cause the wilting of the stem and leaves, stunting, yellowing of the leaves, tissue death, and defoliation. If a tree is infected, the disease is most noticeable in the crown.
Birch trees are often victims of an infestation of a boring insect known as a bronze birch borer. You'll see dieback at the tips of branches. If you don't treat an infected tree, it will usually die.
We will be adding photos to this article shortly, so check back to see our remedies in action.
By Charles Montgomery, NW eSource
GET YOUR FREE ESTIMATE FROM ELITE TREE SERVICE