OREGON CITY TREE REMOVAL FROM THE PROS AT ELITE TREE SERVICE
When looking for "Oregon City tree removal near me" you need a team that offers safe, efficient tree removal in Oregon City while also delivering competitive costs and stellar customer service – you need Elite Tree Service! Capable of handling tree removal jobs large or small for trees of all shapes and sizes, Elite Tree Service turns time-consuming tree removal into a straightforward, painless process.

The experts at Elite Tree Service make Oregon City tree removal look easy! Then, after removal we chip branches and break down the trunk, which we can haul away or leave for you if you'd prefer. Either way, we'll leave no mess behind. With just one phone call or email, you can enjoy safe, efficient professional tree removal Oregon City. In fact, we proudly offer same-day services for most jobs and emergency assistance when necessary. Elite Tree Service is here to serve your interests in everything we do.

Contact us today for your free estimate, or to arrange for professional tree removal for Oregon City. We're available by phone at 971-998-8733 or by email at info@elitetreeservicepdx.com, or simply fill out the form below!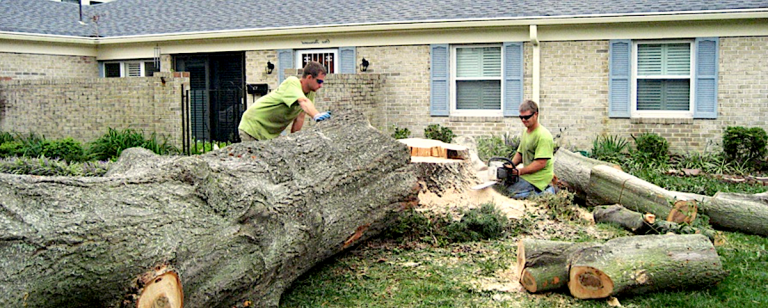 WHY WORK WITH A PROFESSIONAL OREGON CITY TREE REMOVAL COMPANY?
Professional commercial and residential tree removal is a serious job which should only be undertaken by professional tree service companies. Safety is the major concern when unprepared, inexperienced homeowners take on tree removal - one false move and immense property damage and/or painful personal injury could easily occur, costing considerably more money and time than simply going with the top Oregon City tree team to begin with. Rather than a quick weekend project, tree removal is a potentially dangerous task which should not be taken lightly.

Tree removal in Oregon City is especially risky without the right tools; don't take DIY shortcuts to remove a tree, call the professionals at Elite Tree Service today for dependable tree removal services. Our staff of veteran tree techs are well trained, experienced, and equipped with the latest tools, allowing us to guarantee a safe tree removal process for you and your family.

Additionally, working with professionals means you can enjoy the benefit of our advice during a free consultation. It can be hard for homeowners to figure out whether a tree really needs removal. We'll analyze your specific circumstances and consider all the possible solutions. For example, a problem such as tree branches encroaching on utility lines may not require removal but simple tree maintenance or relocation, which are services Elite Tree Service also offers. We care about preservation and will never recommend tree removal if it isn't the right choice. Elite Tree Service has an arborist on-staff partly for this very purpose!

Many homeowners seek tree removal service for Oregon City for reasons including overgrowth, death, poor placement, and health issues.
When a tree dies it quickly becomes a safety hazard, ready to fall down during a strong storm or an intense gust of wind. Horror stories of trees crashing into roofs and cars are surprisingly common and could have been avoided with timely tree removal. Contact Elite Tree Service for regular or emergency tree removal to prevent potential damage.
Having a tree in the wrong place can turn a beautiful source of greenery into a frustrating problem. Poor tree placement may be stopping other plants from getting sunlight, preventing a future hardscaping project, spoiling your view, or causing another problem altogether. We can remove the offending tree and cut it up or we can transfer it to another area which may be better suited.
Many people don't know that trees can develop health issues including diseases and fungi. These problems not only affect individual trees but potentially others around them as well. Elite Tree Service can work with you to treat an infected tree with guidance from our staff arborist, or if removal is necessary, our trained staff can handle that, too!
Tree overgrowth can mean damage to your plumbing system, hardscaping, foundation, or other important infrastructure. In this situation we can remove and break down the tree as normal or move it to a more spacious location if you'd prefer! Or, if the issue is tree branch overgrowth, another solution besides removal may be regular tree trimming, and Elite Tree Service offers Oregon City tree maintenance, trimming, and pruning services for situations exactly like this. 

 
Though our professional tree removal Oregon City is already cost-effective with tremendous speed and safety benefits, Elite Tree Service also offers competitive prices to make the choice even easier for you. If you've received an estimate from another tree service company, send it to us and we'll do our very best to match or possibly even beat it!
ELITE TREE SERVICE IS DEDICATED TO OUR OREGON CITY TREE REMOVAL CUSTOMERS!
At Elite Tree Service, it's our mission to provide customers with expert tree services from a company they can trust. That's why our staff is well-trained and experienced, our tools are top-notch, and our pricing is reasonable. Elite Tree Service is able to take on difficult tree removal jobs as well as general tree services including Oregon City tree pruning, Oregon City stump removal, Oregon City emergency tree services, and more. We're proud to not only offer reliable tree work but quality customer care as well. We take the time to listen to every client about their unique needs, make an effort to treat gardens, homes, and neighborhoods with the utmost respect, and always provide friendly, attentive assistance to homeowners and their families. When it comes to tree removal in particular, we never take unnecessary risk and always prioritize safety.

To get in touch with Elite Tree Service, contact us by submitting the form below or feel free to reach out by phone at 971-998-8733 or by email at info@elitetreeservicepdx.com. Our team will be pleased to help in any way possible!
For emergency assistance, call Oregon City's Elite Tree Service directly at 971-998-8733 and leave us a voicemail if we don't answer right away. If you'd prefer you can also email us at info@elitetreeservicepdx.com and our project manager will get an immediate alert.